Facebook
Twitter
In contact with
Classmates
Andizhan Airport (Andizhan Airport).
Andijan region belongs to the most developed regions and significant in economic terms for Uzbekistan. It is located in the east of the Fergana Valley in the territory of 4,2 thousand sq. Km. Nearby are Namagan and Fergana regions of Uzbekistan, Osh and Jalal-Abad oblasts of Kyrgyzstan. The population of Andijan region is about 2, 3 million. It employs 160 large industrial enterprises, 281 of them is engaged in the processing of agricultural products. The city of Asaka is the center of the automobile industry, where the plant "GM Auto" is located and many joint ventures with South Korea, machine-building, car repair, "Electroapparat" plant, oil industrial enterprises - Hajiabad, Palvantash, Andijan and others. Annually, the volume of civil and industrial construction is increasing.
Good economic development of the Andijan region, high business activity of the population, concentration of capital and production capacities on its territory cause an urgent need for transport links of this region with the neighboring countries and Central Asia.
Airport Andizhan founded in 1955 city as a base for Soviet air defense forces. After the independence of Uzbekistan in 1992, the airport came under the control of an independent Republic. The airport is located at an altitude of 462 meters above sea level. Now it is based state airline "Uzbekistan Airways".
Conventionally, the airport can be divided into the following facilities for passengers:
Lounges (for transit passengers - a separate room).
Hall of departure / arrival for passengers on international flights.
Medical Center.
Bar.
Currency exchange.
The room for the mother and child.
Cargo warehouse.
Also at the airport operate aviation security, customs and border control. It operates a large room service delegations. Also, the airport operates a system of safety management and quality of service at all levels.
In updating the airport at the moment of the work performed. In particular, a new building was built for the basing of services involved in air traffic control, reconstruction work was carried out in the arrivals and departures halls, a fire station was built, new special equipment and vehicles servicing aircraft were purchased. At the next stage, they plan to modernize air navigation systems, install automated workplaces for air traffic controllers, replace outdated light-signal equipment with more modern ones. Also it is planned to change the system power supply of radiosvetotehnicheskogo software and ATC. All these steps will contribute to the improvement of flight safety and the approach of passenger service to international standards.
Services Airport Andizhan
Conduct pre-and post service of passengers with their baggage, cargo customers.
News alert the population at the airport (who wish to fly, Atmosphere, mourners) to provide up to date information on flights.
Ticket sales and reservations, including group within the existing rules of air travel.
Providing service and other fee-based services.
Transport services to individuals and legal entities.
Provision of meteorological and aeronautical information at the request of departing crews of the NAC and other aircraft operators.
Basic data of Andijan airport:
Airport country: Uzbekistan.

GMT time zone (summer / winter): + 5 / + 5.

Airport coordinates: longitude 72.29, latitude 40.73.

The number of airport terminals: 1.
Airport Andijan (Andizhan Airport). Official site: No.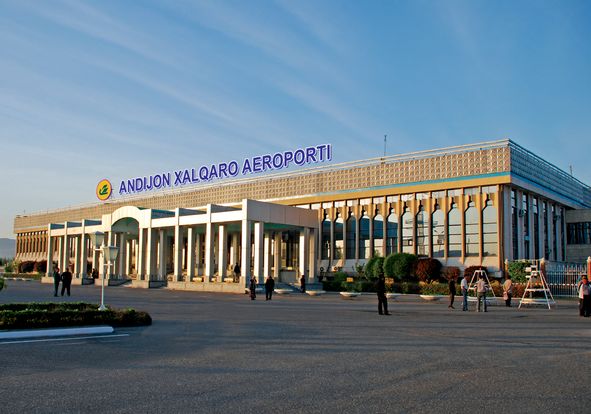 Airport Codes:
IATA airport code: AZN.

ICAO airport code: UTFA.

Internal airport code: ANZH.
Contact details:
E. mail Airport:

[email protected]

.

City airport management telephone: +998742242744.

The mailing address of the airport: Novokoltsevaya st., 1, Andijan, Uzbekistan, 710000.

Airport Fax: +998742244864.

The base airlines of the airport are airlines: Uzbek Airlines (UzbekistanAirways).