Airport Almeria (Almeria Airport).
Almeria International Airport is one of the largest air harbors in Andalusia, yielding only to the airports of Malaga, Seville and Granada in terms of passenger turnover.
In 2017, the volume of passengers served at the airport of Almeria was more than 1 million 7 thousand passengers, increasing the increase in comparison with 2016 year by almost 9%.
History of Almeria Airport
The airport of Almeria began to be built in 1966 year, which was due to the need to ensure an efficient transport connection with Andalusia. The project to build an air harbor was completed in just two years, and already in February 1968, the first flight from this air harbor was completed.
Initially, Almeria Airport operated domestic flights, however, later, when the air harbor was given the status of an international airport, the route network was significantly expanded.
In the near future, Almeria International Airport is planned to expand, which in turn will provide greater attractiveness for air carriers and lead to the expansion of the air harbor route network.
Runways of the International Airport of Almeria
Almeria International Airport has one asphalt airstrip with an extension of 3200 meters and a width of 45 meters, which allows unimpeded access to aircraft 3-4 class.
There are several helipads on the territory of the air harbor, which makes it possible to receive helicopters of all types.
Infrastructure Almeria International Airport
The air harbor has a well-developed infrastructure, which is actively expanding due to the increase in the basic performance of the international airport. As of the beginning of 2018, there are:
ATMs, currency exchange offices, payment terminals;
The shops;
Cafe and catering;
Place for storing luggage;
Place of packing;
Room mother and child;
VIP service hall;
Conference hall;
Parking vehicles;
A taxi rank;
Parking for public transport;
Car rental.
How to get to Almeria airport?
Thanks to the location of Almeria International Airport in the city, there are no problems with transport accessibility, which means that you can get to the air harbor either by taxi or by using public urban transport.
Basic data Airport Almeria Airport:
Airport Country: Spain .
The international airport of Almeria (south-east of Spain).
GMT time zone (summer / winter): + 2 / + 1.
Latitude geographical 36.84, longitude geographic -2.37.
The geographical location of the airport: 9 kilometers to the east in the direction from the center of the city of Almeria.
Almeria (Almeria Airport). Official website: no.
The number of airport terminals: 1.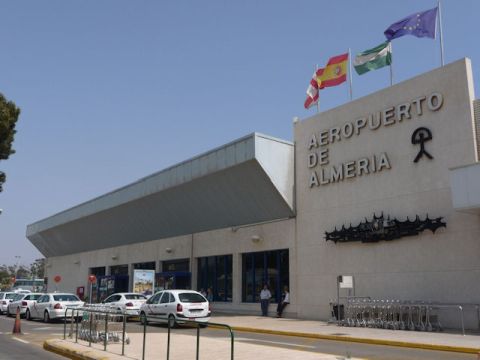 The main airport codes:
IATA airport code: LEI.
ICAO airport code: LEAM.